Guide to Buying A Train Ticket in China
If you are reading this guide than it is probably your first time buying a train ticket in China.
Don't worry because this is possibly one of the easiest things to do in China.
Information
Train Tickets are categorized into seat levels and as well as by the speed of the train.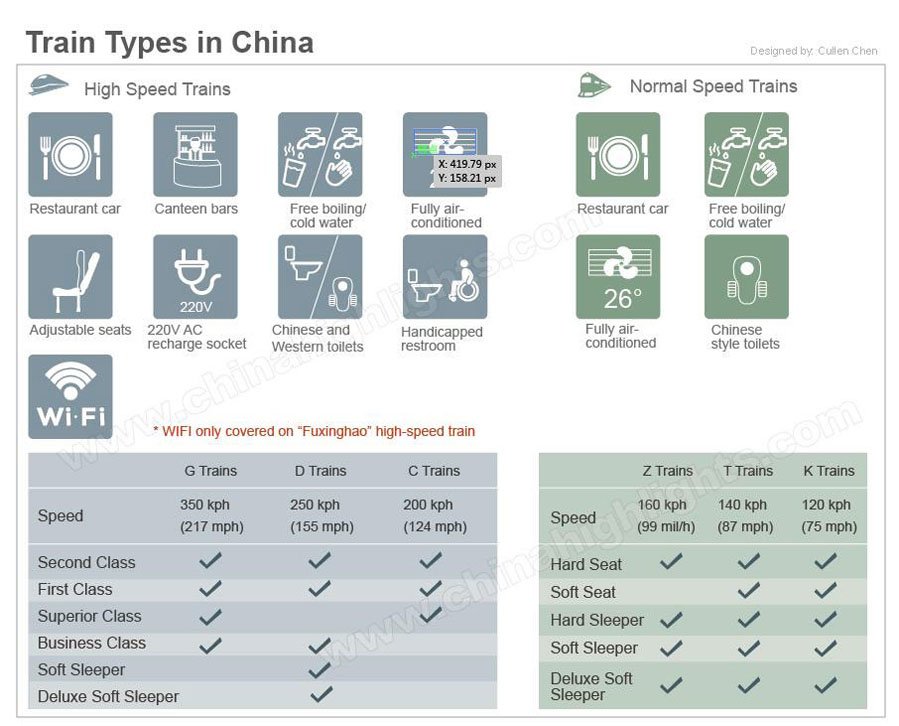 Seat levels for light rail trains (G D C) which are the fastest trains in China, these trains only offer seats and no beds.
Business Class (Most Expensive) 商务座
Superior Class (Expensive Price) 特等座
First Level (Medium Price) 一等座
Second Level (Cheapest) 二等座
Seat levels for slow trains(Z T K), these trains take a long time and are usually very old. They may even have private rooms with beds in them.
Seat (Cheapest)
Sleepers (Medium Price)
Deluxe Soft Sleeper, which are generally private rooms (Most Expensive)
I would not recommend a foreigner to ride the slow trains as it is very dirty and you may encounter pickpockets.
Requirements
Your passport
Cash or Mobile Payments (I recommend Wechat Pay from your Wechat Wallet)
Step 1
Go to your nearest train station
Step 2
Once you arrive at your local train station, find the service booth to purchase a ticket.
You are looking for the manned stations and not the automated self-service stations because sadly those only work for locals with a local ID card number.
The manned stations are usually located beside the main entrances into the train station on either the left side or the right side depending on the train station.
There is usually a line up at the counter of these stations so its a good bet that whichever line is the longest that's probably the right line to be in.
These counters are called 取票窗口 or 取票专口 in Chinese and if you are lucky they will maybe have one of these.
Step 3
After waiting in line to speak to an agent to purchase a train ticket.
I frequently visit Chengdu from Chongqing so I always say,
"A+B+C+D" = "(A 2张)(B二等座)(C高铁动车) 票ticket 去to (D成都)"
A = Number of Train Tickets
B = Type of seat
C = What type of train (G D C Z T K)
D = Destination (City Name)
This chart will show you the type of seats available on a train.
| | | |
| --- | --- | --- |
| 高级软卧: Deluxe Soft Sleeper | 软卧: Soft Sleeper | 硬卧: Hard Sleeper |
| 商务座: Business Class Seat | 特等座: VIP Class Seat | 一等座: First Class Seat |
| 二等座: Second Class Seat | 软座: Soft Seat | 硬座: Hard Seat |
| 无座: Standing (no berth or seat) | | |
You can simply create a sentence following my example to provide to the counter agent to purchase your desired train ticket. Use your phone to copy and paste the sentence shown above to create a Chinese sentence that can help satisfy your train ticket needs.
Show the sentence to the train ticket agent and they will display a set of time on the monitor beside them.
Step 4
Select the time slot that you would like and you will have purchased your train ticket.
Step 5
Head on into the platform and wait for your train to arrive.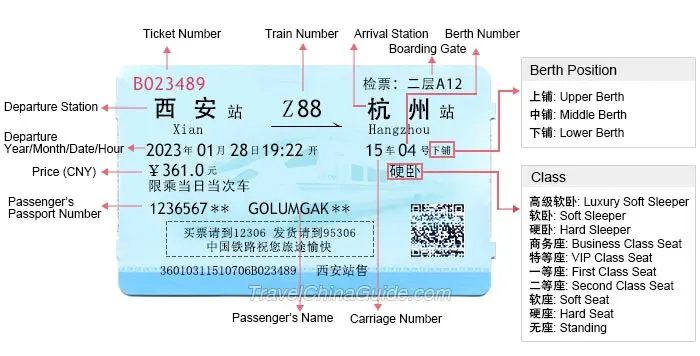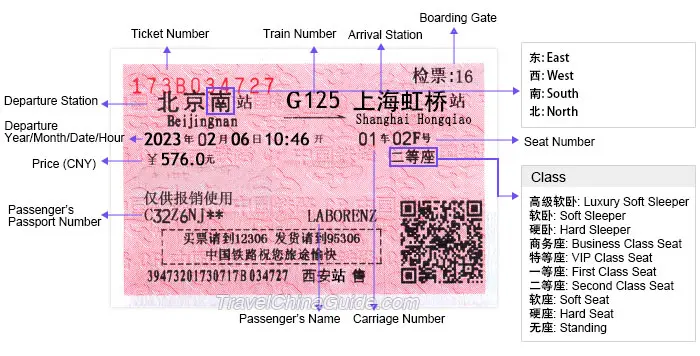 Enjoy your trip
We hope you enjoyed our China train guide. Please leave a comment if you have any questions and remember to apply for english teaching jobs in China today! Our job board is updated daily with the highest quality job postings available.
Kind Regards
Tyler